Subscribe to receive new posts:
Posts Tagged 'Conservative'
Sunday, April 14, 2013 @ 04:04 PM
This article was published previously by Rabbi Regina Sandler-Phillips in The Forward at http://forward.com/articles/156397/confronting-cremation/?p=all#ixzz2IGRcOnqF. Thank you to Rabbi Sandler-Phillips for her permission to republish here.
_________________________________________________________________________________
At first glance, the two sides of the Jewish cremation dilemma seem clear. Opponents deplore what they see as a violation of Jewish law, desecration of the body and callous indifference to the memory of the Holocaust.
Proponents claim that cremation is less costly and more ecological, and that it saves land for the living. Yet a closer examination reveals a much more complicated picture. We need a Jewish conversation that speaks to the realities of both cremation and burial. This conversation is difficult because it involves facing death — not the illusory death of movies and computer games, but real and inevitable mortality — and what it means for our lives.
     Levayah, the Hebrew word for "funeral," actually means "accompanying." Whether we bury or burn, our willingness to accompany is usually quite limited. Between medical pronouncement and final disposition, our dead are typically wrapped up and taken away to preparations of which we have only the vaguest knowledge. It's much easier to focus on the details of a product — an urn or a coffin, a memorial plaque or a headstone — than on honoring and protecting a body in transition. read more
Thursday, January 10, 2013 @ 10:01 AM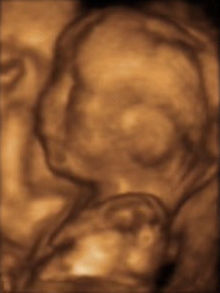 That different Jews have disparate views is not news. What is news is when most Jews agree on a particular idea or approach. And so it is with the curious consensus of Jews on abortion.
In mid-2012, the Public Religion Research Institute ("PRRI") published its findings from a 2012 survey of Jewish values (the "Jewish Values Survey"). The survey sought to measure the opinions of American Jews on a wide variety of political and economic issues, both domestic and foreign, as well as with respect to certain religious beliefs and practices. Some of those opinions were analyzed internally by Jewish denomination and externally by comparison to those of other faith or ethnic groups.
While Jews varied considerably in their views of a wide range of topics, on one – abortion – they were not only reasonably cohesive in their attitude, but strikingly different from other groups. Given the emphasis in the Jewish tradition on valuing life, on equating the preservation of one life with the preservation of a world and, conversely, the destruction of one life as the destruction of the world (Mishnah Sanhedrin 4:5), this result, on its face, seems as anomalous as it is clear. read more