Subscribe to receive new posts:
Welcome!
Welcome to a discussion about Judaism and science, about fact, fiction and faith. Now in its seventh year, this site has already explored a wide range of issues, from archeology to zygotes and from adam (mankind) to t'filah (prayer). And we have done so unsponsored and unencumbered by any particular denomination.
Along the way, we have encountered some interesting ideas, met some fascinating people and even gained some new perspectives. And our journey has really just begun. All who are interested in a thoughtful, respectful and constructive dialogue are invited to participate.
Monday, June 5, 2017 @ 09:06 PM
"The Bible shows the way to go to heaven, not the way the heavens go." — Galileo Galilei
"There is no harmony between religion and science. When science was a child, religion sought to strangle it in the cradle. —R.G. Ingersoll
Introduction
                When I was a resident in psychiatry over thirty-five years ago, one of my mentors said something that forever changed the way I thought about my profession. "In psychiatry," he said, "you can do biology in the morning and theology in the afternoon." My teacher was being a bit facetious, but on a deeper level, he meant what he said. I understood his message to be simply this: the problems of my patients could be understood and approached from both a "scientific" and a "religious" perspective, without fear of contradiction or inconsistency. Yes, I know—there are many critics of psychiatry who would challenge its "scientific" bona fides, but that is a debate that would take me far afield. Instead, I would like to use my teacher's claim as a point of entry into a much broader question; namely, in what ways do science and religion differ, and in what sense do they have features in common?
                This is hardly a new question, and I don't claim to have any revolutionary new answers. But I hope that by distinguishing between the truth claims and the wisdom claims of these two realms—science and religion—I can make the case for a modified form of "compatibilism."  To do this, I will draw out the ancient Augustinian distinction between scientia and sapientia, whose meanings I will try to make clear presently. In addition, as an illustration of how this distinction may be helpful, I will present an imagined dialogue between two seminal figures in the realms of science and religion: Albert Einstein and Rabbi Menachem Mendel Schneerson, known as "the Rebbe." What makes this dialogue different from the usual "Science vs. Religion" boxing match is the eclectic and nuanced positions of the two figures. For in an important sense, Albert Einstein was a deeply religious scientist–and the Rebbe, a deeply scientific theologian. read more
Wednesday, March 22, 2017 @ 12:03 PM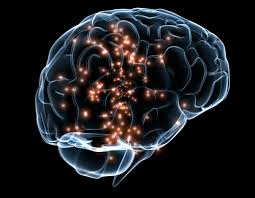 Credit: DARPA
The Jewish assumption of free will is ancient and enduring. But what does modern neuroscience have to say?
The history of neuroscientists' efforts to explore the free will phenomenon was reviewed in 2016 by philosopher and neuroethicist Andrea Lavazza in the journal Frontiers in Human Neuroscience. The setting for our current understanding was drawn a half century ago with the discovery by Hans Kornhuber and Luder Deecke of the Readiness Potential ("RP"), a measurement of increased bio-electric activity in the brain. The RP was measured by an electroencephalogram  ("EEG"), a procedure in which electrodes were placed on a subject's scalp to allow for the recording of bio-electric activity. This activity was seen as an indication of preparation for a volitional act.
One question raised by the discovery of RP was whether an individual was conscious of an intention to act before RP appeared. In the early 1980s, Benjamin Libet, a son of Jewish immigrants from Ukraine who became a neuroscientist at the University of California-Davis, sought to answer that question. Libet and his team designed a relatively simple test. First, subjects were wired for an EEG. To record muscle contraction, electrodes were also placed on subjects' fingers. Then the subjects were asked to do two things, spontaneously move their right finger or wrist, and, with the aid of a clock in front of them, report to researchers the time they thought they decided to do so.
What Libet found (Libet et al. 1983) was that conscious awareness of the decision to move a finger preceded the actual movement of the finger by 200 milliseconds (ms), but also that RP was evident 350 ms before such consciousness. While Libet recognized that his observations had "profound implications for the nature of free will, for individual responsibility and guilt," his report appropriately contained several caveats. First, it noted (at 640) that the "present evidence for the unconscious initiation of a voluntary act of course applies to one very limited form of such acts." Second (at 641), it allowed for the possibility that there could be a "conscious 'veto' that aborts the performance . . . (of) the self-initiated act under study here." Finally (at 641), it acknowledged that "the possibilities for conscious initiation and control" in situations that were not spontaneous or quickly performed. read more