Subscribe to receive new posts:
"a rare masterpiece"
– Rabbi Lawrence Hoffman, HUC
"careful research, passionate analysis, and good sense"
– Rabbi David Teutsch, RRC
"clear, engaging"
– Rabbi Geoffrey Mitelman, Sinai and Synapses
"a tremendous tome"
– Rabbi Wayne Dosick, SpiritTalk Live!
"an absolutely fascinating book"
– Rabbi Richard Address, Jewish Sacred Aging

There are no events to display
Posts Tagged 'Darius'
Tuesday, September 10, 2013 @ 11:09 AM
posted by Roger Price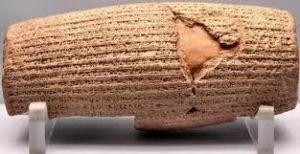 Over twenty-five centuries ago, Cyrus II, founder and ruler of the Persian Empire, freed the Jews who had been transported forcibly to Babylon and facilitated the reconstruction of their Temple in Jerusalem. Without the intervention of Cyrus, the Jewish People and Judaism as we know it (if that is not redundant) would not exist today. In short, no Cyrus, no Jews. So who was Cyrus, and why aren't we celebrating his actions?
Cyrus was born into the royal family of the small state of Anshan, located in what is now southwest Iran. Not long after becoming king of Anshan around 559 BCE, Cyrus first conquered nearby Media (550 BCE) and then turned west to capture Lydia (546 BCE) in what is now western Turkey. Next, he shocked the world by toppling the previously dominant empire of Babylonia (539 BCE). Whether his victory after a multi-year siege of the capital Babylon was more the result of brilliant tactics, Babylonian palace treason or some other factor can be debated, but it is crystal clear that Cyrus emerged from Babylon triumphant. And with this victory, Cyrus became ruler of, among other lands, the territory bordering and east of the Mediterranean Sea to and surrounding the Jordan River. read more
Tags:
Amos Oz
,
archeology
,
Artaxerxes
,
Babylon
,
Babylonian
,
Bible
,
calendar
,
cylinder
,
Cyrus
,
Darius
,
David Ben-Gurion
,
Deutero-Isaiah
,
Ezekiel
,
Ezra
,
Fania Oz-Salzberger
,
God
,
Haggai
,
Hebrew Bible
,
Israel
,
Israel Finkelstein
,
Jeremiah
,
Jewish history
,
Jewish People
,
Jews
,
Josiah
,
Judah
,
Judahites
,
Judaism
,
kingdom of Israel
,
kingdom of Judah
,
Moshiach
,
Nebuchadnezzar
,
Neil Asher Silberman
,
Neil MacGregor
,
Persian Empire
,
Purim
,
Temple
,
William Schniedewind
,
Yehud
,
Zachariah
,
Zedekiah